ATTENTION
this is an old web site of Roman Catholic Parish Kutná Hora - Sedlec. The new web you can find at www.sedlec.info. In case you still see this site even you type new link, clear the cache files of your web browser please.
Kutná Hora - Sedlec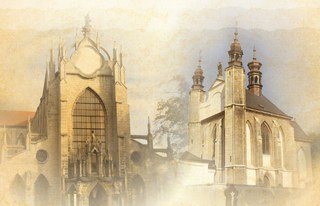 The oldest part of Kutná Hora - Sedlec - is a place, where the history of Royal Silver town Kutná Hora has begun. The landlord Miroslav from Markvartice ask the Cistercian order to establish the monastery here in 1142. The Miroslav´s fundation for the new monastery was really estated - a lot of lands and woods around Sedlec and even some villages belonged to it. And a few years later, when the silver ore was found mainly there, the profits from renting the lands for mining earned a huge richness to Cistercian monastery in Sedlec. There is no monk in monastery in these days and Kutná Hora is not a Royal silver town any more, but we can still admire great cathedrals, churches, gloriously buildings and monuments, which were built and erected thanks to the unimaginable welth...
There are two very coveted churches in Sedlec - The Cemetery church of All Saints with the Ossuary and Unesco Herritage listed Cathedral of Assumption of Our Lady and Saint John the Baptist. Administration of these sights attaches to the Roman Catholic Parish in Sedlec.
And because a large amount of visitors all over the year requires an appropriate services, the Parish also administrates an Infocentre near by - visitors of Sedlec can find all important information about the town and the surroundings there, and also all arranging of guide service, concerts, experience program or the permits for filming in the churches are accomplished there.

Kutná Hora - Sedlec area forward - a veduta from 1765